Night Diving: Some of the Best Dive Sites in the World
It might sound creepy, but diving at night is a distinct and memorable experience. Many of the creatures you search for in vain during the day are active at night, floating by when you least expect them. There are reef sharks hunting prey, rays gliding along the ocean floor and corals turning every color of the rainbow. Around the globe, dive sites become a wonderland of activity once the sun disappears. As a scuba diver, you miss out on half of the ocean's life if you only dive during the day. Discover what goes bump in the night at these 10 epic dive sites after dark.
---
1. Manta Night Dive – Kona, Hawaii
Come and observe the nightly performance of the manta ballet just of the Kona coast in Hawaii, in a specially illuminated observation area. Each night, dive operators shine massive spotlights into the water. This attracts light-seeking plankton. The mantas, in turn, come to feed on the plankton and you have front row seats on the sandy bottom below as the graceful manta rays turn, somersault and glide above your head.
Dive Type: Pelagic Observation
Featured Creature: Manta Rays
When to Go: April to October
---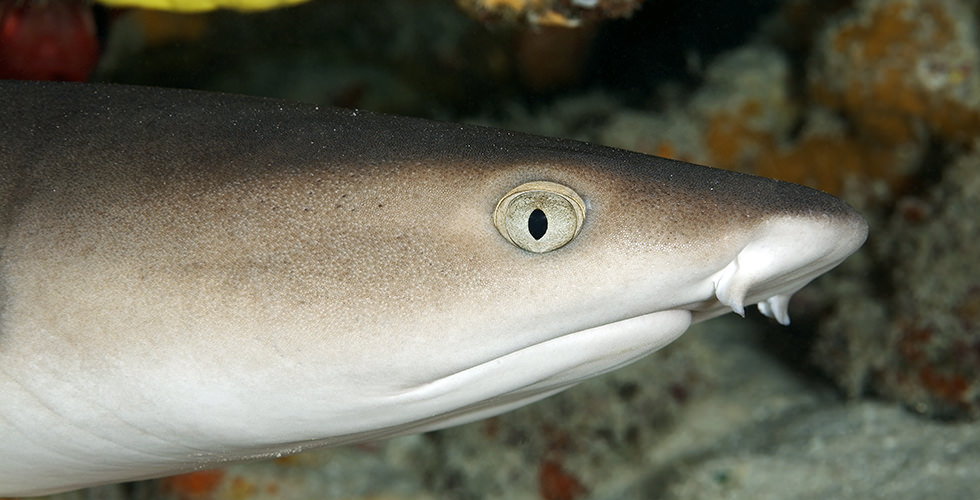 2. Maaya Thila – Ari Atoll, Maldives
The Maldives, a gorgeous nation of sparkling islands spread out in the Indian Ocean, is the perfect destination for a luxury liveaboard experience. With hundreds of dive sites, creating a liveaboard itinerary can be a daunting task, but experts agree that Maaya Thila ranks among the best dive sites in the world. For that reason, you'll find it on almost every Ari Atoll liveaboard itinerary. The pinnacle, which starts at 20 feet (6 meters), plays host to a variety of stingrays, whitetip reef sharks, giant trevally, nurse sharks and barracuda. While Maaya Thila is one of the best liveaboard dive sites in the world, it also ranks among the best night dives. After sundown, a feeding frenzy creates unforgettable action at this dive site in the Maldives.
Dive Type: Pinnacle
Featured Creature: Whitetip Reef Sharks
When to Go: December to May
---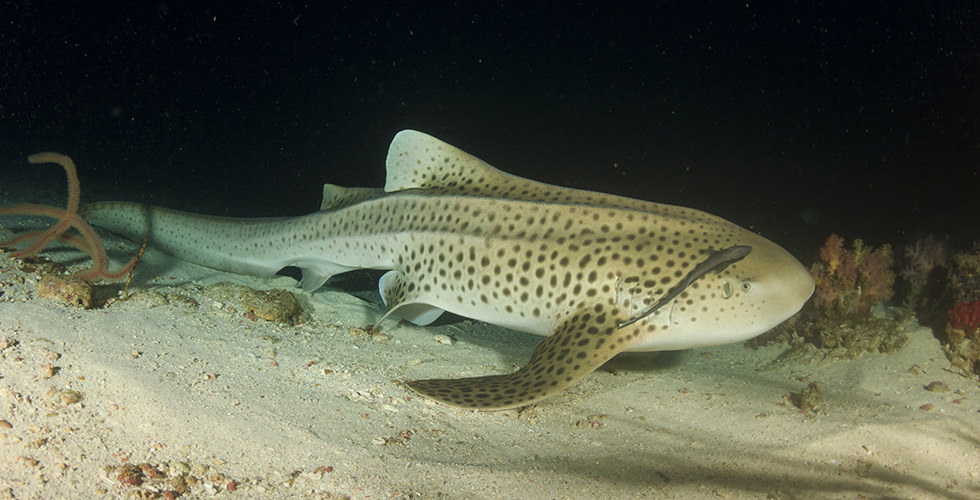 3. Tobia Arba – Safaga, Egypt
A collection of 7 pinnacles that nearly break the surface, this dive is often referred to as the "seven pillars." These pinnacles offer a superb chance to discover the underwater world at night. The four major pillars rise nearly 50 feet and are home to a good mix of soft and hard corals. During the day, this site is a macro heaven. As you travel by torchlight at night, these macro creatures come to life. Exploring the caverns and overhangs, you may come across nocturnal dwellers as octopus, lionfish and Napoleon wrasse. You might also see the elusive leopard shark hunting its prey in the dark of night.
Dive Type: Pinnacles
Featured Creatures: Leopard Shark, Octopus, Napoleon Wrasse and Lionfish
When to Go: March to May; September to November
---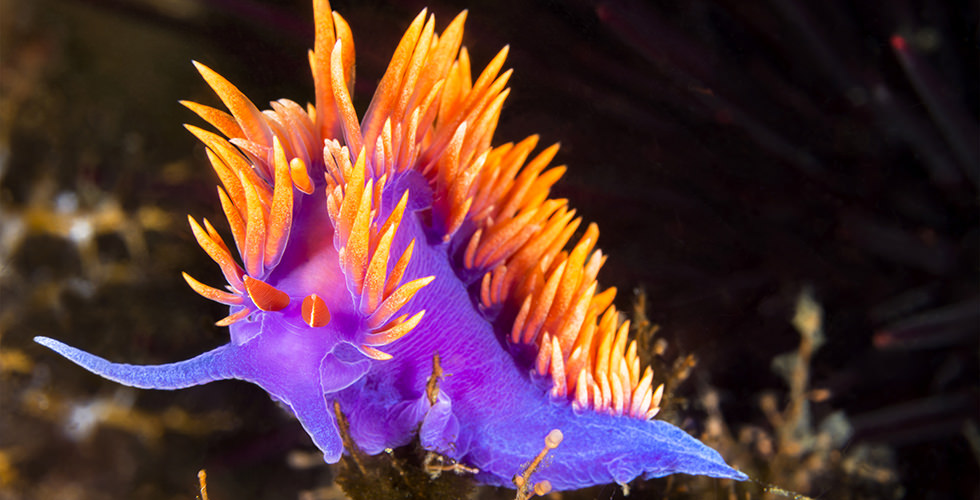 4. Fluorescent Night Dive – Bonaire Marine Park, Bonaire
Fluorescent diving is a new concept in the world of scuba. Using UV lights and mask filters, scuba divers light up coral reefs under the dark of night. The result is an underwater party. Shrimps, eels and all manner of marine life reflect the UV rays in brilliant pinks, purples and greens. Bonaire is on the cutting edge of this technology and one of the pioneering locations for its use. If you don't happen to be in the Caribbean, you can also try this type of diving in Indonesia, Thailand and the Maldives.
Dive Type: Reef
Featured Creatures: Shrimps, Eels, Nudibranchs and Star Corals
When to Go: All Year Round
---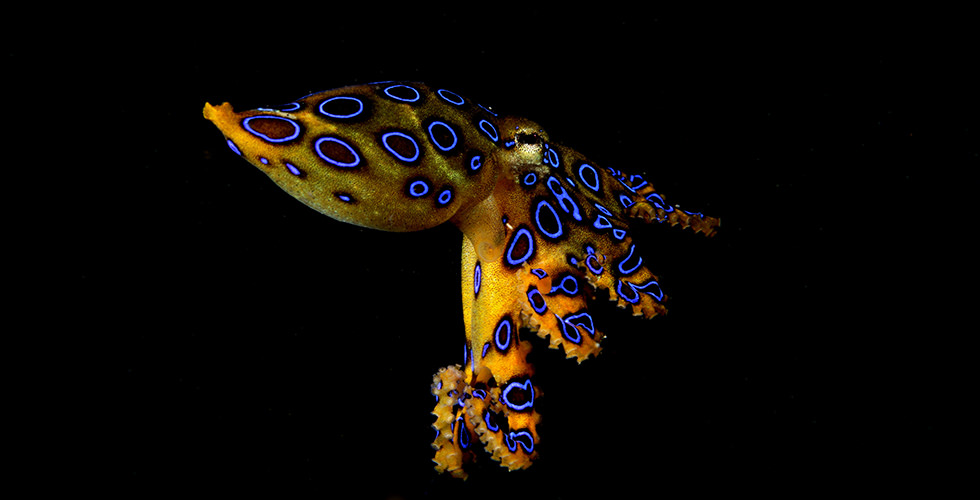 5. Nudi Falls – Lembeh Strait, Indonesia
Known as the muck diving capital of the world, the Lembeh Strait is home to all types of weird and wonderful critters. From millions of nudibranchs to bobtail squid, the diversity of small marine life is astounding. As most of these creatures are incredibly active during the night, it only follows that night diving in the Lembeh Strait is even better than diving during the day. This is true at one site in particular, namely Nudi Falls. Here you'll follow a wall on the mainland side of the Strait down to rocky corals and finally along the sandy bottom to a soft coral field. In the process, you might find active cuttlefish, squid, rare yet colorful nudibranchs, soft coral cowries and so much more.
Dive Type: Wall/Rocky Coral
Featured Creatures: Blue-ringed Octopus, Wonderpus, Cuttlefish, Pygmy Seahorse, Nudibranchs, etc.
When to Go: March to October
---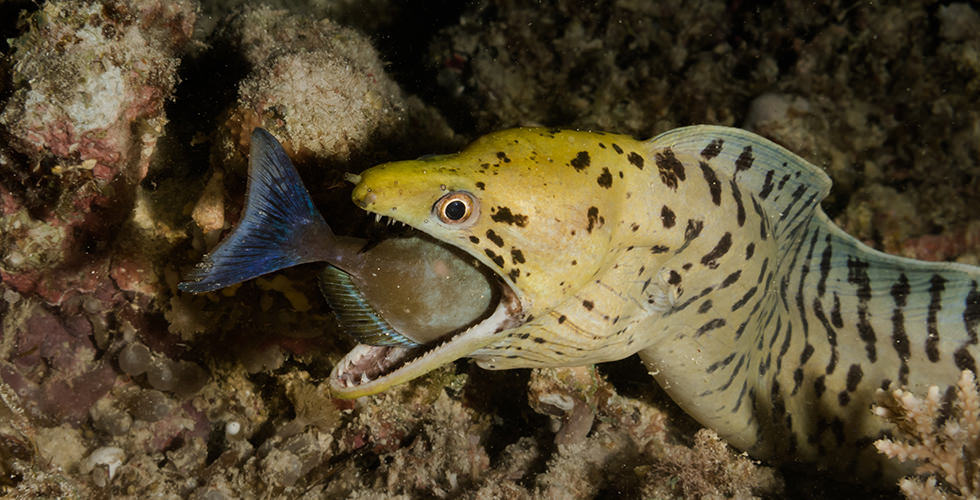 6. SS Coolidge – Santo, Vanuatu
A truly memorable dive, the SS Coolidge in Vanuatu ranks among the best wrecks, day or night. The Lady, as the ship is sometimes called after the ornament found in the ballroom, was a former luxury liner turned World War II troop ship. It was sunk by an American mine just offshore in Santo waters. Before the ship went down, the captain ordered his troops to evacuate but to leave all their belongings. Because of its position close to the break wall and in only 66 – 231 feet (20 – 70 meters) of clear water, the large SS Coolidge is ripe for exploration at night. As the beams of flashlights bounce off the cargo holds, lobby and bow, divers explore the artificial reef that has now formed on the ship. If you're lucky, you might spot the bioluminescent flashlight fish which reside around the ocean liner. The creepy factor of a sunken ship along with the nocturnal marine life makes night diving at the SS Coolidge an unforgettable experience.
Dive Type: Wreck
Featured Creatures: Reef Sharks, Eels, Sea Turtles, Barracuda and Flashlight Fish
When to Go: April to October
---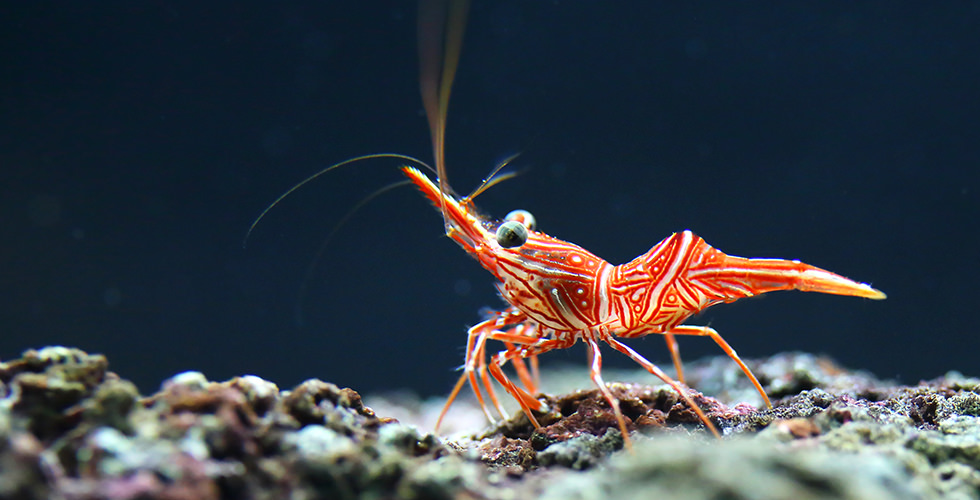 7. Black-Water Diving – Tahiti and Moorea Islands, French Polynesia
Probably the most nerve wracking dive on this list, black-water diving involves tying scuba divers to the bottom of a boat and suspending them in pitch black water. This type of diving usually occurs in the deep channel between Tahiti and the Moorea Islands where depths can reach thousands of feet. In the dark of night, strange bioluminescent creatures such as Siphonophores and Comb jellies rise to the surface to feed. While doing so, they create their own light and a fantastic show for divers brave enough to descend into the darkness.
Dive Type: Open Ocean Drift
Featured Creatures: Bioluminescent Organisms
When to Go: March to November
---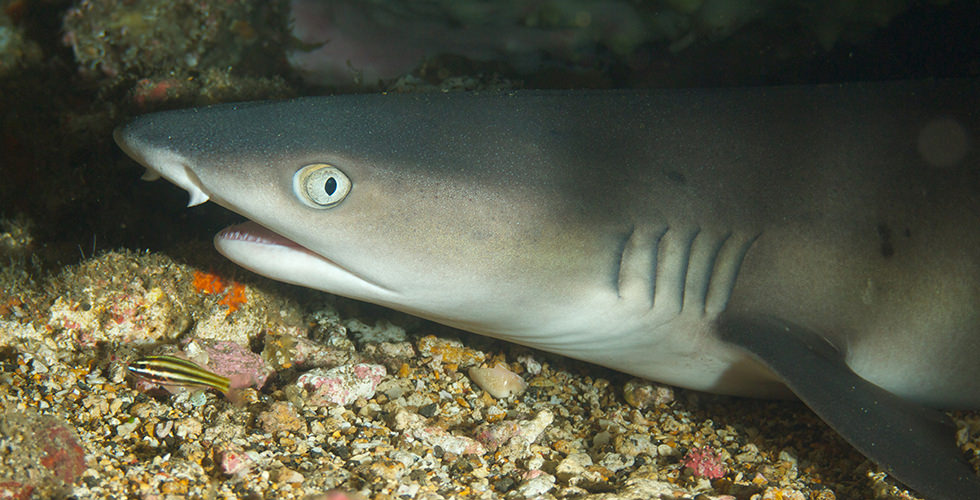 8. Manuelita Shallows – Cocos Island, Costa Rica
Located 340 miles (550 kilometres) off the Pacific coast of Costa Rica, Cocos Island is a magnet for pelagic species thanks to a convergence of currents. Manuelita Shallows, sometimes simply called Manuelita, is positioned in a sheltered area, providing cover for large whitetip reef sharks. During the day, the sharks are relatively inactive. However, dive in at night, and you'll see hundreds of these predators patrolling the reef in packs in search of dinner. This rare and thrilling dive is included in most liveaboard itineraries to this distant location.
Dive Type: Hard Coral Reef
Featured Creatures: Whitetip Reef Shark
When to Go: June to November for the best marine life. December to May for the best water conditions.
---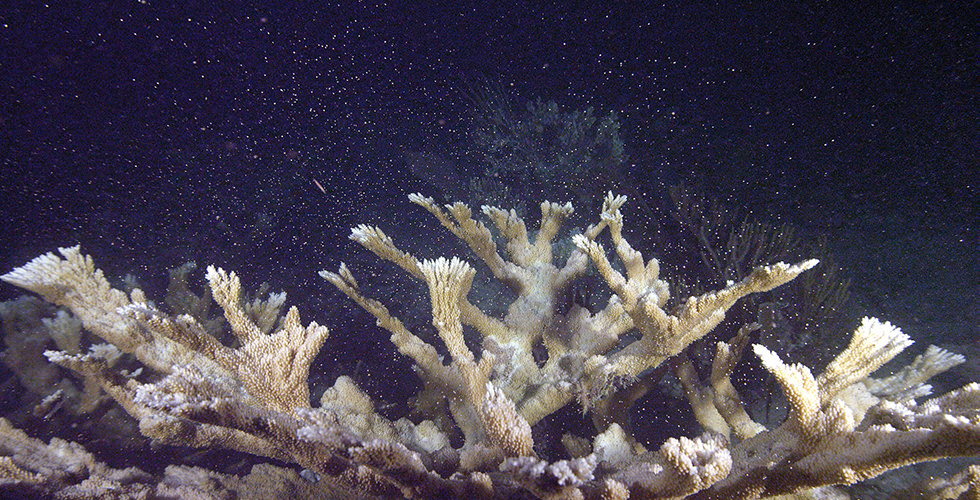 Photo credit: FWC Fish and Wildlife Research Institute
9. Mushroom Forest – Santu Pretu, Curacao
Each year from late August to October, Curacao's coral reefs come to life in a phenomenon known as coral spawning. This happens around the island, but one particularly poignant place to witness the spectacle is at the dive site known as Mushroom Forest. A few days after the full moon, the several species of coral in the area release their gonadal secretions at the same time. They seemingly time the release to a certain position of the moon. These secretions hopefully go on to become new coral colonies, which is particularly important for the endangered staghorn and elkhorn corals. For scuba divers, several operators in the area run special trips to witness this amazing occurrence.
Dive Type: Reef
Featured Creatures: Staghorn and Elkhorn Corals
When to Go: August to October
---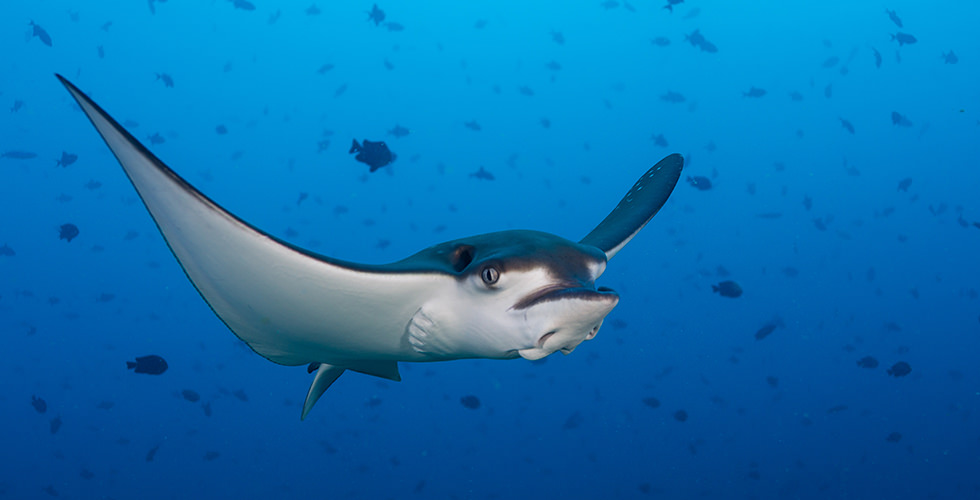 10. Navy Pier – Exmouth, Western Australia
Navy Pier, a 100-foot (300-meter) structure extending out from shore, is home to some of the biggest marine life in the Pacific. Huge rays, moray eels, lobsters and potato cod are common to this relatively compact site. Diving here during the day is fantastic, but the area really comes to life at night. Flatworms, nudibranchs, eels, wobbegong sharks, whitetip reef sharks, octopuses and scorpion fish are all among the active, nocturnal hunters found at Navy Pier. If you're ready for some night action in Australia, head to this amazing dive site in Ningaloo Reef.
Dive Type: Structure
Featured Creatures: Wobbegong Sharks, Eagle Rays and Huge Potato Cod
When to Go: March to November
By Sandro Lonardi
Trackback from your site.