Whether you love halloween or are haunted by a desire to dive in unusual places, here are six spooky dive destinations to explore. Bring your bravest dive buddy because these creepy dive sites are not for the faint of heart.
Underwater Statue of Jason Voorhees
At the bottom of an abandoned, water-filled mine in Minnesota is one of the world's most notorious killers. Jason Voorhees, star of the popular Friday the 13th horror film series, is entombed underwater, hockey mask and all.
The statue was installed by two dive buddies and is one of many submerged objects divers can discover while exploring open-pit mines near Crosby, Minnesota. Follow these directions from Scuba Diving magazine to visit Jason in his watery grave, or check out the video below:
Yonaguni Monument
In 1986, divers discovered a mysterious rock formation near Japan's Yonaguni Jima Island. Sport Diver describes the structure as similar to a Mayan temple, "with narrow passageways, dead-straight steps and terraces, angled corners, holes, channels and intricately shaped rocks."
To this day, no one is sure whether the Yonaguni pyramid is a natural formation or evidence of a civilization that existed 5,000 to 10,000 years ago. Is Yonaguni Japan's Atlantis? Or is it evidence of alien visitation? Perhaps it's simply the master architect mother nature showing us what she can do.
Turtle Tomb
Sipadan, Malaysia is home to some of the world's most beautiful diving and one of the creepiest dive spots. At a dive site called Turtle Tomb, hundreds of turtle skeletons (and a few dolphins) litter the sandy bottom. The animals who lost their lives in the cave got lost and couldn't find their way out. For this reason, the dive is restricted to advanced divers with cavern training and experience.
Mine Diving Sweden
You'll need special permission from locals to dive the Tuna Hästberg mine. The adventure begins 80 meters/262 feet below ground. Divers make their way down 400+ dark stairs wearing hard hats while dive gear is transported by trolley and winch. A local expert will suggest routes through the labyrinthine network of tunnels based on your training and experience. A guide can be arranged if needed. Sidemount and technical dive training are not required, but strongly recommended. Many of the passageways are narrow and the majority of the site is an overhead environment.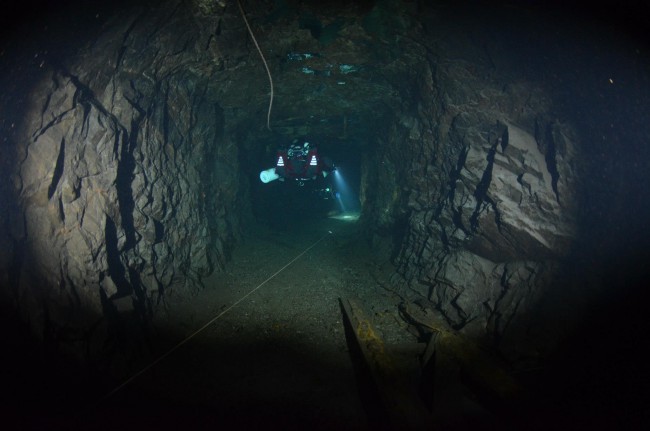 A Flooded Village
In 1908, a rockslide dammed the River Lygna and flooded a small Norwegian village nearby. After more than 100 years, the town buildings are remarkably well-preserved. Divers can drift above the road leading to the abandoned town and float across the bridge to explore a village trapped in time.
Salem Express
In December 1991, the passenger ferry Salem Express collided with a reef in the Red Sea and sunk. More than 500 people lost their lives and, due to dangerous conditions, some of the bodies could not be recovered.
The wreck of the Salem Express is a controversial dive site as many feel it is disrespectful to recreationally dive a vessel that is also a grave site. Those who choose to visit the wreck can see artifacts including luggage, clothing, children's toys, and (tragically) two life rafts.

Further Reading
6 Dive Sites That Will Give You Goosebumps
Diving the World's Most Haunted Wrecks